A Mining Committed to Safety
The operation of a mining company is 100% dependent on a radio communication system, due to the safety of its workers, community and efficiency in its activities that demand immediate responses through full time and flawless connectivity!
Committed Customer Service Provider
For ten (10) years, Gamatel has been keeping very high availability at mining company Samarco, Motorola's 99.99% radio communication solution, with a robust network topology (as shown), highly qualified Motorola-certified staff and processes. Robust products also certified by the PRODFOR full quality program!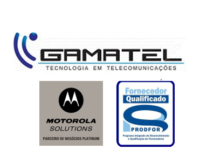 System: communication via Motorola analog radios and MOTOTRBO line digital / analog repeaters;
Roof: 02 sites, with several repeaters, 1714 radios (at peak), towers, power system;
Functions: Voice calls, communication channels and radio identification on the network;
Highlights: World class maintenance and outsourcing;
Year / Place: Cliente desde 2009 / Mariana/MG e Anchieta/ES